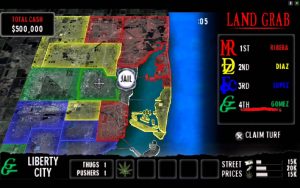 Info:

Release Date: 2006
Publisher: Sierra Entertainment
Platforms: Sony PSP
Shipped In: USA/Europe

 Scarface

Scarface™: Money. Power. Respect. combines turn-based strategy and real-time action enabling you to experience what it took for Tony Montana to rise to power in the streets of Miami. Take on the role of Tony Montana to complete a series of scenarios based on scenes from the movie as he takes over the drug trade in Miami. In multiplayer mode, take control of one of the cartels battling to control business and territory.

Unique gameplay experience based on the Scarface mythology. Make strategic decisions as you vie for turf on photo realistic maps of Miami. Issue commands during real time combat to control action at the street level. Rise from street pusher to kingpin as the game evolves into scenarios of conquest and domination. Features clips from the movie to propel the story. Up to 4 player wireless multiplayer.