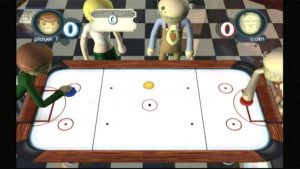 Info:

Release Date: 2007
Publisher: Midway
Platforms: Wii
Shipped In: USA/Europe

 Game Party

Game Party™, available exclusively for the Nintendo Wii™ console, brings all the rec room classics to your living room, all in one package. Using the Wii Remote™, guide your dart, slide your shuffleboard discs or launch your skii ball for the ultimate party experience.. Up to four players can play at once, for the ultimate party experience!

Features:

Play seven of your favorite social games: Play traditional standouts such as Darts, Table Hockey, Shuffle Board and Hoop Shoot, or try your hand at variations of classics like Skii Ball, Ping Cup and Trivia. And for the best party atmosphere play against your friends!

Fun, Easy Controls: Play your favorite games with the same motions you would in real-life! Slide your hand to hit a hockey puck, take aim and toss your dart at the dartboard, use a bowling motion to send your skii ball into a high scoring hoop.

175 Characters! 125 unique characters initially available, plus the chance to unlock 50 additional zany characters!

Classic Venues: Each game features classic venues appropriate for each activity. Play darts in a British style eatery, Hoop Shoot in a sports entertainment center, and many more!

Show Your Friends Who Rules: Participate in multi-player competitions, with friends in your home. From teams to take on the competition and keep track of your progress on the leader boards.